In This Update:
Continuing to Serve on Athletic Oversight Committee
Senate Votes to Strengthen State's Emergency Response
COVID-19 Relief Package Earns Senate Approval
Legislation Advances to Enhance Penalties for Child Pornography
New Online Filing Option Available for Property Tax and Rent Rebates
Pandemic Emergency Unemployment Compensation Program Reopens
Lancaster County Announces Mass Vaccination Clinic
---
Continuing to Serve on Athletic Oversight Committee
I was honored this week to be reappointed to serve on the Pennsylvania Athletic Oversight Committee, which reviews all issues pertaining to sports and athletic competitions that are sanctioned by the Pennsylvania Interscholastic Athletic Association (PIAA). I served as chair of this committee in 2020 and was proud to work with all stakeholders to allow students to safely participate in school sports in spite of the challenges posed by COVID-19.
The PIAA and the committee faced extraordinary challenges this past year, and I appreciate the fact that so many passionate voices were raised in support of young people. Giving them opportunities to shine and compete on a level playing field will be my highest priorities on this panel in the years ahead. More details about this appointment are available here. https://redesign.senatorscottmartinpa.com/2021/01/28/martin-reappointed-to-athletic-oversight-committee/
Senate Votes to Strengthen State's Emergency Response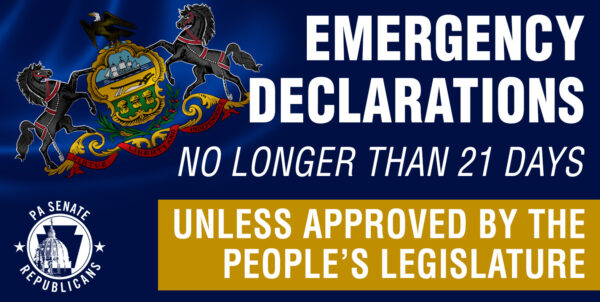 State government's efforts to respond to emergencies could be bolstered by a potential amendment to the Pennsylvania Constitution that would limit the length of future disaster declarations unless an extension is approved by lawmakers.
The bill, which was approved by the Senate this week, would ensure the governor does not have unilateral power to suspend laws, spend money without legislative approval and shutter employers indefinitely. Limiting the length of an emergency declaration would ensure greater cooperation between all branches of government during an emergency and restore the system of checks and balances that Pennsylvania was founded upon.
Because the measure would require an amendment to the Pennsylvania Constitution, the bill must be passed by the Senate and House of Representatives in two consecutive legislative sessions and be approved by voters via referendum. The bill was approved by the General Assembly during the last legislative session. If approved by the House of Representatives, the measure would appear on the ballot in the next election.
COVID-19 Relief Package Earns Senate Approval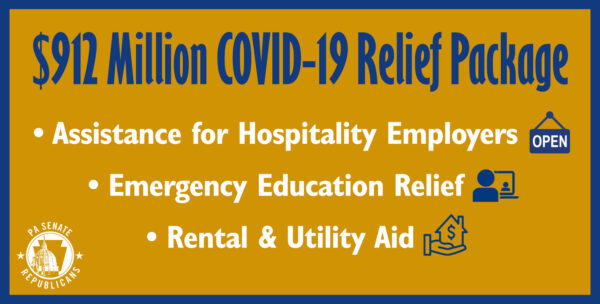 The Senate took the first steps toward providing a new round of financial assistance to restaurants, schools, employers, and tenants impacted by the pandemic by passing a comprehensive $912 million COVID-19 relief bill this week.
The relief package dedicates federal funding for rental and utility assistance, as well as non-public schools, career and technical centers, Intermediate Units, charter schools for the deaf and blind, and approved private schools. Funding is also included to support the redesign of the State System of Higher Education.
In addition, the package allocates $145 million from the Workers' Compensation Security Fund to the COVID-19 Response Restricted Account to provide county block grants to assist the hospitality industry, including restaurants, bars and hotels.
Legislation Advances to Enhance Penalties for Child Pornography
The Senate approved a bill this week that would crack down on individuals charged with possession of child pornography. The legislation would boost penalties in all cases of child pornography in which the child is under the age of 10 or prepubescent and provide sentencing enhancements for offenders who sexually abuse children who are known to them.
In addition, the bill would create a special task force to review all laws pertaining to child pornography and make recommendations to improve the investigation and prosecution of offenders.
The bill was previously sponsored by the late Senator Dave Arnold (R-48), who tragically passed away earlier this month.
New Online Filing Option Available for Property Tax and Rent Rebates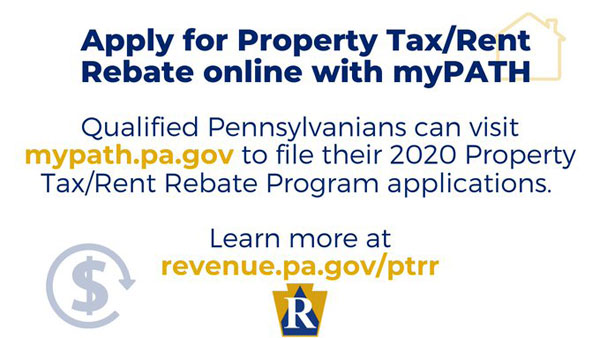 The state's popular Property Tax Rent Rebate program provides rebates of up to $650 on rent or property taxes paid in the previous year by low-income seniors and individuals with disabilities. A new online filing tool will make it easier to file applications for the program.
The new myPATH system allows applicants to complete applications online, track the status of their claim and benefit from faster processing and direct deposit options. Rebates will be distributed beginning July 1.
Applicants can also still file by mail. I encourage community residents to contact my district office if they need additional information on filing Property Tax Rent Rebate claims.
Pandemic Emergency Unemployment Compensation Program Reopens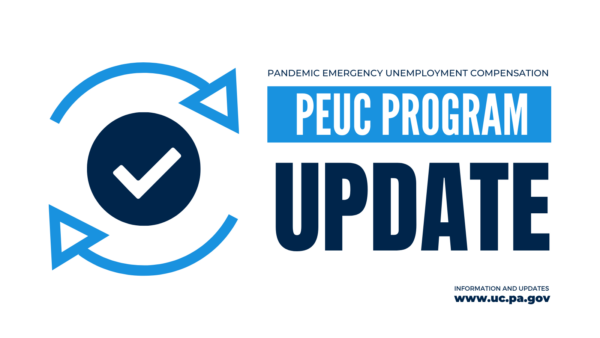 The Department of Labor and Industry reopened the Pandemic Emergency Unemployment Compensation (PEUC) on Sunday. The program provides additional benefit weeks to qualified individuals who have exhausted their regular Unemployment Compensation benefits.
Claimants can receive an additional 11 weeks due to the extension of the program. More details are available here.
Lancaster County Announces Mass Vaccination Clinic
In an effort to streamline the immunization process, Lancaster County is actively planning a mass vaccination clinic to expedite the administration of COVID-19 immunizations in the community.
A group of local stakeholders has been conducting ongoing planning for a central site for a mass vaccination clinic with the potential to administer 5,000+ immunizations per day.
With the significant support and collaboration among various primary vaccinators, health systems, qualified volunteers, local government, and the private sector, the goal is for the mass vaccination clinic to be operational and open to the public by the end of February.
More information on Lancaster County's COVID-19 immunization efforts can be found on their dedicated vaccine website at http://www.vaccinatelancaster.org/. Additional information will be added to this site on February 1.
If you have a question about the information in this e-newsletter or other state related matters that you would like a response to, please click HERE to submit your inquiry through my website. This will help to ensure that we are able to respond to your question in a timely fashion due to the high volume of emails and the ever growing amount of computer generated spam mail we receive daily.