In This Update:
COVID-19 Relief Bill Signed into Law – COVID-19 Timeline
Senator Martin Re-Appointed to Chesapeake Bay Commission
Hearing Explores Serious Shortcomings in PA Vaccine Rollout
Constitutional Amendment Limiting Emergency Declarations Will be Decided by Voters
Lawmakers Receive Update on PASSHE Redesign Efforts
HuntFishPA Platform Aims to Make Licensing More Convenient
---
COVID-19 Relief Bill Signed into Law – COVID-19 Timeline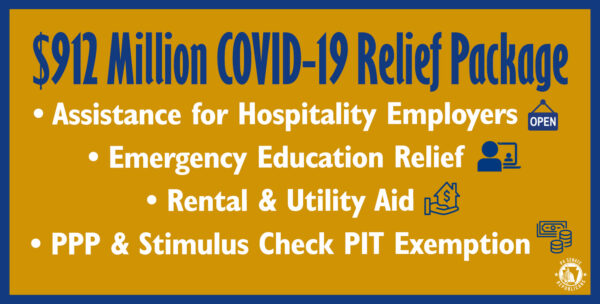 Last week, the Senate and the House of Representatives gave final approval to a bill that would provide financial relief for restaurants, schools, employers, and tenants impacted by the COVID-19 pandemic. The $912 million package allocates $569.8 million for Rental and Utility Assistance and $197 million for education programs through the use of federal funding, as well as $145 million in state funds to support Pennsylvania's struggling hospitality industry.
Much of the funding in the COVID-19 relief package is targeted to individuals, employers and institutions that have not benefited from previous pandemic support programs.
The bill, which drew bipartisan support, was signed into law as Act 1 of 2021 last week. Guidelines on how to receive funding for rental and utility assistance, education funding and grants for restaurants and hospitality businesses are expected to be available in the weeks ahead.
Since the start of the pandemic, the Pennsylvania legislature has been very active in passing legislation to help open our economy in a safe way that protected our most vulnerable while holding the administration accountable for its actions. You can read about my work and the work of the Senate since the inception of the pandemic in March though today.
In addition, with the administration of the COVID-19 vaccines at this time, many people have questions about who is eligible and when they can become vaccinated. You can review up-to-date information on the vaccine and various resources regarding its distribution by visiting the Covid-19 Vaccine FAQs and Resources section on my website.
Senator Martin Re-Appointed to Chesapeake Bay Commission
Recently, I was reappointed to serve on Pennsylvania's delegation to the Chesapeake Bay Commission for the 2021-22 Legislative Session. The Chesapeake Bay Commission is a tri-state legislative panel created in 1980 to advise members of Congress and the General Assemblies of Maryland, Virginia and Pennsylvania on issues concerning the Chesapeake Bay and its watershed.
Hearing Explores Serious Shortcomings in PA Vaccine Rollout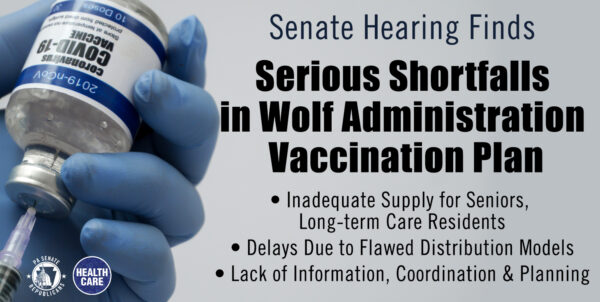 The Wolf Administration's slow and troubled roll-out of the COVID-19 vaccine has raised many questions from Republicans, Democrats and Independents alike. The Senate Health and Human Services Committee and the Senate Aging and Youth Committee held a public hearing last week to take a closer look at these issues and learn about the challenges in getting the vaccine to eligible Pennsylvanians who want to receive it.
The hearing covered a wide range of issues, but the struggles of long-term care facilities to vaccinate residents and staff was the most prominent area of discussion. According to the U.S. Centers for Disease Control data tracker, Pennsylvania ranks 41st in the percentage of received COVID-19 vaccines administered.
In response to many of the issues raised during the hearing, Governor Wolf recently announced the creation of a new COVID-19 Vaccine Joint Task Force to ensure more accurate and timely information sharing between the Executive and Legislative branches of government.
Constitutional Amendment Limiting Emergency Declarations to be Decided by Voters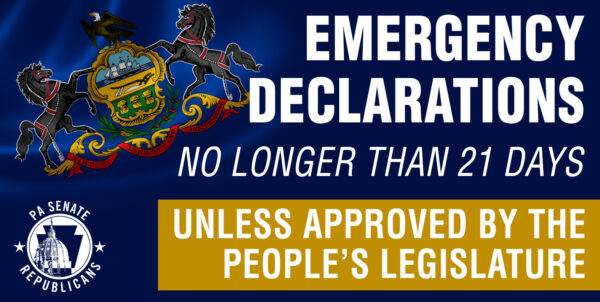 Voters in the May 18 primary election will decide whether future emergency declarations should be limited to 21 days unless an extension is approved by the General Assembly. The question will appear on the ballot this spring after the Senate and the House of Representatives passed the proposed constitutional amendment in two consecutive legislative sessions.
The change would prevent the kind of situation we have seen during the COVID-19 emergency, in which the governor has used the emergency declaration to suspend laws, shut down businesses and spend money without the authorization of the General Assembly.
The bill would not impact a governor's ability to respond quickly to emergencies, nor would it jeopardize federal emergency aid. It would only ensure that the governor and the General Assembly work together to respond to a crisis and ensure all Pennsylvanians are represented during an extended state of emergency.
The bill also provides for a constitutional amendment prohibiting the denial of equal rights based on race or ethnicity, bringing the Pennsylvania Constitution in line with the U.S. Constitution.
Lawmakers Receive Update on PASSHE Redesign Efforts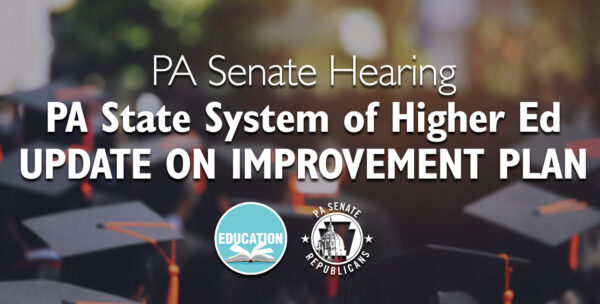 The General Assembly approved a bill last year that allows the Pennsylvania State System of Higher Education (PASSHE) to modernize its operations in the face of declining enrollment and new financial pressures. The Senate Appropriations Committee and the Senate Education Committee held a public hearing with PASSHE Chancellor Dan Greenstein this week to discuss changes to the system, including integrating several universities and leveraging their collective strengths to boost career readiness for system graduates.
PASSHE is expected to present its system redesign proposal in April of this year, to be followed by a public comment period and phased implementation set for fall of 2022. The changes are expected to include uniting several universities within geographic regions, while keeping all campuses open, retaining programs and accreditation for students, and expanding learning opportunities for students.
HuntFishPA Platform Aims to Make Licensing More Convenient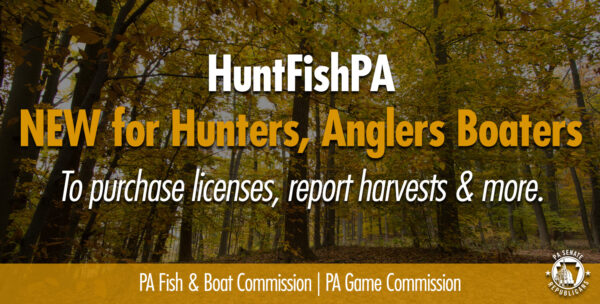 Hunters, anglers and boaters will have a new way to purchase licenses, report harvests and more with the launch of the new HuntFishPA licensing platform. Visitors to www.HuntFish.pa.gov can purchase hunting and fishing licenses, permits, boat renewals and more from any device at any time and benefit from 24/7 call center support and new instructional videos.
The new platform replaces the previous licensing system known as The Outdoor Shop. All profile, purchase and user information was transferred to the new system, so prior users should be able to log in using their existing credentials.
If you have a question about the information in this e-newsletter or other state related matters that you would like a response to, please click HERE to submit your inquiry through my website. This will help to ensure that we are able to respond to your question in a timely fashion due to the high volume of emails and the ever growing amount of computer generated spam mail we receive daily.