February 19, 2020
Wolf's Budget Plan Would Boost Spending and Taxes While Cutting School Safety
The $36.1 billion state budget plan presented to lawmakers by Governor Wolf earlier this month would boost state spending by $1.5 billion, increase borrowing by more than a billion dollars, raise taxes and cut a critical school safety program by 75 percent.
The massive proposed increase in spending and borrowing is a serious concern. If we fail to rein in spending now, we raise the risk of bigger and more painful tax increases in the years ahead. We need to work toward a budget that is responsible and sustainable, and that will be my goal in the months to come.
The governor's budget also would include higher taxes for a variety of services, including State Police coverage. Although the governor says that his plan would ask every community to pay more, I have very serious concerns that rural communities will be asked to bear the brunt of this burden. Rural Pennsylvanians should not be asked to pay higher taxes for the same level of service.
My reaction to the budget is included in the video below.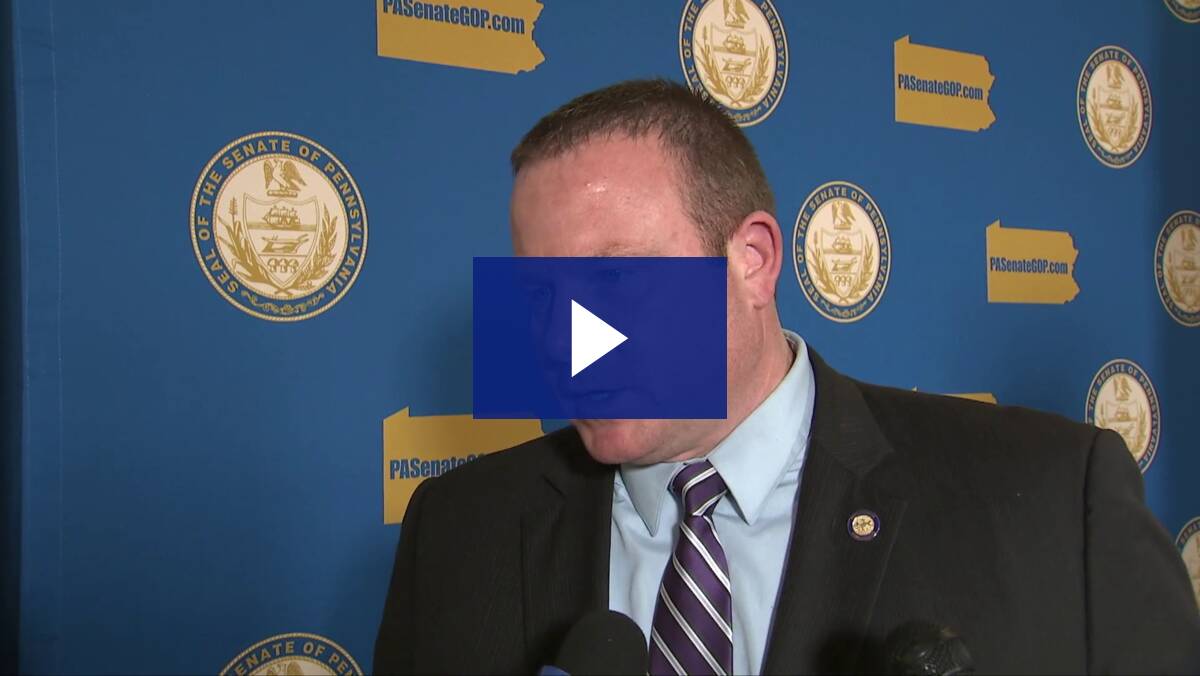 I also voiced strong opposition to Governor Wolf's proposed 75-percent cut to the School Safety and Security Grant Program, which was created in a bill I co-authored in 2018. I detailed the hypocrisy of this cut in a letter here.
Senate Approves New Protections for Fire/EMS Personnel
The Senate recently passed a bill I sponsored along with my colleague Senator Kristin Phillips-Hill that would ensure critical members of volunteer fire companies, ambulance corps and rescue squads who are injured in the line of duty would qualify for workers' compensation coverage.
The legislation would apply to 1,550 volunteer fire companies and 92 ambulance organizations that are insured by the State Workers Insurance Fund. More details about the bill are available here.
Grants, Legislation Set to Help Fire and EMS Companies
Our local fire and EMS companies do an incredible job of protecting our lives and property. I authored a bill that went into effect in January that allows volunteer fire companies to keep more of the money they collect during fundraising events, and I recently supported two other bills that would help fire and EMS companies deal with some of the most significant financial and recruitment challenges they face today.
Senate Bill 908 and 910 would expand existing grant and loan programs to support firefighters and EMS companies. In addition, more than 80 Lancaster County fire and EMS companies recently received grants to help with equipment purchases, facility upgrades, training and other critical needs.
More information about the bills and grants dedicated to our first responders is available here.
Two Local Government Reforms Move Forward
In recent weeks, two local government reform measures I introduced have earned the support of my Senate colleagues: Senate Bill 492 was approved by the Senate, and Senate Bill 494 earned the approval of the Senate Appropriations Committee.
Senate Bill 492 updates the qualifications and training needed to assess the value of properties for tax purposes to ensure properties are not overvalued or undervalued when determining property taxes and other tax rates. Senate Bill 494 would help local governments complete construction projects when no bids are submitted for the project.
Additional information about both of these bills are available here.
New Panel Will Focus on Juvenile Justice Reforms
I was honored to be appointed recently to serve on a new panel that will be responsible for improving Pennsylvania's juvenile justice system. The Juvenile Justice Task Force will be responsible for completing a thorough review of the current system to find ways to better protect public safety, contain costs to taxpayers and improve outcomes for victims, youth, families and communities.
I look forward to working with members of this panel to create a stronger system that reduces recidivism, makes victims whole, protects communities and lessens the burden on taxpayers.
More details about the panel are available here.